Professional Bathroom Remodeling Services in Las Vegas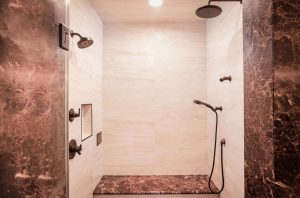 At Designer Kitchen & Bath, we are committed to providing our clients with the best possible bathroom remodeling experience. Our experienced team offers a wide selection of bathroom renovation services, including complete bathroom remodels, updates to fixtures, and custom design options.
Affordable Bathroom Remodeling in Las Vegas
We believe that a beautiful and functional bathroom should be accessible to everyone, and we work hard to make that a reality for our clients. Our affordable bathroom remodeling services are unmatched by other Las Vegas bathroom remodeling companies.
Custom Bathroom Design in Las Vegas
Our team of expert designers will work closely with you to create a custom design that fits your specific needs and budget. From choosing the right tiles and fixtures to creating a functional layout, we will guide you every step of the way to ensure that your bathroom renovation is a success.
Trusted and Reliable Bathroom Renovation & Designs in Las Vegas
If you're looking for a trusted and reliable bathroom renovation in Las Vegas, look no further than Designer Kitchen & Bath. Our team of experts is dedicated to providing our clients with the best possible bathroom renovation experience.
Visit Our Las Vegas Showroom to See the Latest in Bathroom Design
At our showroom in the heart of Las Vegas, you can see the latest in bathroom design and renovation for yourself. Whether you're looking for inspiration for your next bathroom remodel or you're ready to start planning your renovation, our showroom is the perfect place to start. Our knowledgeable team is always on hand to answer any questions you may have and help you find the perfect solution for your home.
Here is a list of services that Designer Kitchen & Bath might offer for bathroom remodeling:
Comprehensive design and planning services to ensure a customized, functional, and stylish bathroom remodel
High-quality product selection and installation, including fixtures, cabinetry, countertops, flooring, and more
Expert plumbing and electrical services for the installation of new fixtures and re-routing existing pipes and electrical work
Professional tiling and flooring installation for shower, bath, and floor surfaces
Wall finishing and painting services to complete the look of your bathroom
Accessory and hardware installation, such as towel racks, shower rods, lighting fixtures, and more
Prompt and efficient project management, ensuring timely completion and minimal disruption to your daily routine
Affordable pricing and flexible payment options to meet your budget and financing needs
One-stop-shop convenience, with everything you need for a successful bathroom remodel available under one roof
Personalized customer service, with a dedicated project manager to guide you through every step of the remodel process
This list is designed to showcase the comprehensive services offered by Designer Kitchen & Bath for bathroom remodeling. It may vary depending on the specific needs and design of each project. However, these are common services that you can expect as part of a complete bathroom remodel package with Designer Kitchen & Bath.